The CoVest team has gathered their favorite recipes! We encourage you to whip up any that catch your eye and let us know what you think.
---
The below recipes include:
Pasta sauce

Pork tenderlion in mushroom sauce

Grilled chicken with fruit salsa topping

Tuscan white bean skillet

Black bean sweet potato Enchiladas

John's Rustic Tomato Pasta Sauce
Ingredients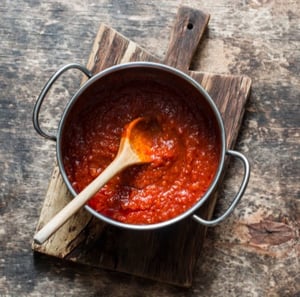 1.5 large onions chopped
6 garlic cloves chopped
1 can anchovy filets
12 oz. can of tomato paste
32 oz. Rustic roasted crushed canned tomatoes
32 oz. of water
2 tsp. dried oregano
1 tsp. Hot peppers
1 bunch Basil chopped
Instructions
Sauté diced onions, sliced garlic, and anchovy fillets in olive oil until aromatics/translucent and fillets have melted in the pan.
Add tomato paste in the center of pan and fry, stirring, until rust-colored. Add crushed roasted tomatoes, crushed dried oregano, hot peppers, and a chiffonade of fresh basil leaves. Season to taste and add 32 oz. of water.
Reduce sauce until thick, add a splash of balsamic vinegar to finish. Garnish with fresh, torn basil leaves and serve over pasta. For an added touch, you can top with sauté clams or shrimp. Yummy!

Dan's Pork Tenderloin with Mushroom Sauce
Mushroom Sauce Ingredients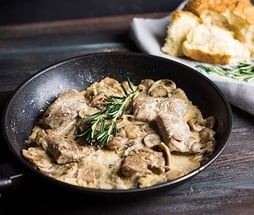 1 Large Shallot
1 Rib Celery
1 Carrot
½ Red Pepper
1 Clove Garlic &
1 Whole Bulb Garlic
1 Large Portobello Mushroom
1 Cup Cream or Whole Milk
1 TBSP butter
Instructions
Preheat the oven to 325. Cut the top off of the bulb of garlic, place in a foil pouch, drizzle with olive oil, salt, pepper, and rosemary. Close the foil pouch and roast in the oven for 40 minutes or until golden brown throughout.
Dice all of the vegetables, sweat over medium low heat in a large pan with a small amount of olive oil, salt, and pepper until soft and reduced in size (about 25 minutes). When finished cooking add butter, cream, and squeeze the roasted garlic out of the bulb into the sauce. Blend with an immersion blender or food processor. Return to pan and cover.
For the pork tenderloin, brine overnight in a solution of ½ gallon water, 1/4 cup salt, and ¼ cup sugar. After brining, cut pork into strips and cook in a cast iron skillet (3 minutes per side). Place in the finished mushroom sauce for 10 minutes (covered, low heat). Happy cooking!

Jess's Grilled Chicken with Fruit Salsa
Fruit Salsa Ingredients Chicken Ingredients
2 tangerines (or oranges), diced 1 lemon
1 cup diced tomatoes 1 tablespoon olive oil
1/3 cup diced white onion 1 tablespoon Dijon mustard
1/4 cup Thai sweet chili sauce 1 tablespoon minced fresh ginger
1/4 cup coarsely chopped fresh cilantro 2 tablespoon kosher salt
Add any other summer fruit prefer!
Freshly ground black pepper
2 pounds chicken
Instructions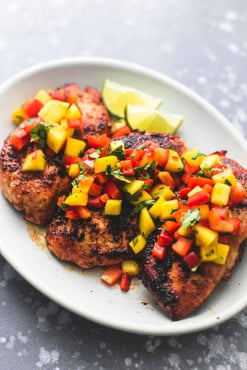 Fruit Salsa
Gently mix tangerines, tomatoes, onion, chili sauce and cilantro to combine.
Cover and refrigerate until ready to serve.
Chicken
Whisk lemon juice, lemon zest, oil, mustard, ginger, salt and pepper in a bowl to create marinade.
Add the chicken to the marinade, coating meat on all sides. Refrigerate, covered, for at least 30 minutes or up to 1 hour.
When ready to grill chicken, remove from the marinade. Place chicken pieces, spaced apart, over hot grill and grill for about 5 - 6 minutes per side. Top each chicken piece with salsa and enjoy!

Andy's Tuscan White Bean Skillet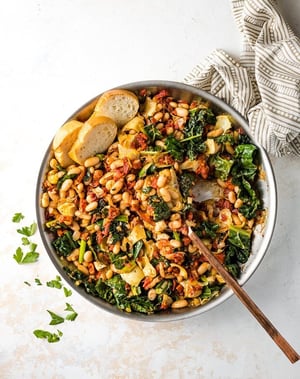 Ingredients
1 tbsp extra virgin olive oil
1 large onion diced (about 1 1/2 cups)
1/2 cup oil-packed sun-dried tomatoes drained and roughly chopped
4 cloves garlic minced
2 (14.5 oz) cans white Cannelini beans, drained and rinsed
1 (14.5 oz) can diced tomatoes
1 (14.5 oz) can artichoke hearts, drained and roughly chopped
1 tsp dried oregano
1 tsp dried thyme
2 cups kale chopped
salt and pepper
Instructions
Warm olive oil in a large skillet over medium heat until shimmering. Add onions and cook for 3-4 minutes, until slightly softened. Add sun-dried tomatoes and garlic and cook for an additional 60 seconds, until fragrant.
Add beans, diced tomatoes, artichoke hearts, oregano, and thyme to the skillet. Stir to combine. Keep heat on medium, cover the pan, and cook for 8 minutes.
Uncover the skillet and add the kale, stirring for 2-3 minutes, until it wilts. Season with salt and pepper to taste and serve.

Richie's Black Bean Sweet Potato Enchiladas

Ingredients
filling
1 ¼
pound (2) sweet potatoes
1 can (15 ounces) black beans, rinsed and drained
1 cup grated Monterey Jack cheese
½ cup crumbled feta cheese
2 cans (4 ounces each) diced green chiles
1 medium jalapeño, seeded and minced
2 cloves minced garlic
2 tablespoons lime juice
½ teaspoon ground cumin
½ teaspoon chili powder
¼ teaspoon cayenne pepper (optional)
¼ teaspoon

salt, more to taste
Freshly ground black pepper
Remaining Ingredients
2 cups (16 ounces) mild salsa verde

10 corn tortillas

1 cup grated Monterey Jack cheese

2 tablespoons sour cream

1 tablespoon water

¼ cup chopped red onion

¼ cup chopped fresh cilantro
Instructions

Preheat the oven to 400 degrees Fahrenheit

Peel and cube sweet potatoes then place on baking sheet that has been coated lightly with olive oil. Bake until tender, about 30 to 35 minutes. Leave the oven on, since we'll bake the assembled enchiladas soon (no temperature adjustments necessary). Once cooked lightly mash.

Meanwhile, pour enough salsa verde into a 9 by 13-inch baking dish to lightly cover the bottom (about ½ cup). In a medium mixing bowl, combine all of the remaining filling ingredients.

Stir the mashed sweet potato into the bowl of filling, and season to taste with additional salt.

Warm up your tortillas, one by one in a skillet, or all at once in a microwave so they don't break when you bend them. Working with one tortilla at a time, spread about ½ cup filling down the center of each tortilla, then wrap both sides over the filling and place it in your baking dish. Repeat for all of the tortillas.

Top with the remaining salsa verde and cheese. Bake for 25 to 35 minutes, until sauce is bubbling and the cheese is lightly golden.

Let the enchiladas cool for about 5 minutes. Whisk the sour cream and water together to make a drizzly sour cream sauce. Drizzle it back and forth over the enchiladas, then top them with cilantro and red onion. Serve.