Depending on your industry, position, and needs consignment inventory can be a blessing or a burden. Review the pros and cons of consignment inventory and find out if it's something your company should consider.
---
Once you understand the basics of consignment inventory, you'll want to dive into how both the suppliers and customers can advance or impede from this method.
Pros for Supplier
Introduces proven products into new sales channels

Introduces new and/or unproven products within current sales channels

Potentially ensure long-term business with a retailer

Judge what levels of inventory are turned over in particular time periods

Reduced inventory holding costs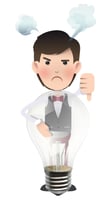 Cons for Supplier
Investing a large amount of money (shipping cost) into a large amount of new inventory

If it doesn't sell, the vendor faces a loss because they are still the owner of the inventory

With no monetary risk, the customer may not be motivated to aggressively promote the inventory
There can be conflicting opinions on how to develop agreements:

Deciding between real-time sales or period-end sales

What are the insurance implications?
---

---
Pros for Customer
Only pay for what is used

Depending on agreement, customers don't have to pay for the shipping of the inventory

New inventory could draw new business

Many vendors send in their own employees to stock their inventory

Generally avoids lag times between using stock and new orders arriving

Opportunity to establish a more traditional bulk order system in realistic order quantities that suit both the consignee and consigner

Usually a consignee is entitled to be reimbursed for expenses incurred in connection with the consignment - depending on the consignment agreement

Access to a wider range of inventory
Cons for Customer
If the inventory fails to be consumed, customers could waste floor space in their back room and shelf space in their store

The constant movement of consigned stock makes it very difficult to manage on a spreadsheet

Liability, the supplier owns the stock but the customer will be responsible as keeper.

Handling owned and consigned quantities of the same item

Most inventory system's do not handle consignment inventory very well
---