Did you know?
285 million people are visually impaired and 80% of visual impairment is avoidable
We share the same world. Shouldn't we share the same vision? Find out how World Sight Day is making a difference.
---
World Sight Day (WSD) is an annual day of awareness organised by WHO (World Health Organization) to garner global attention on blindness and vision impairment. Observed on the second Thursday of October, this year the event takes place on
Thursday, October 11th
.
As they have done every year, Essilor Group will support WSD with a focused campaign. This year that campaign centers on
Road
Safety.
Are Your Eyes Good Enough For The Road?
1 in 5 drivers can't see the road clearly. Find out if you are driving on the road with poor eyesight, by visiting www.putvisionfirst.com and taking the online eye examine.
After completing your free eye examine, commit to following up with a comprehensive eye exam from an eye care professional. For everyone who makes this commitment, Essilor will donate $1 to Our Children's Vision and Essilor Vision Foundation to help millions of children around the world see better.
Poor vision is the world's #1 unaddressed disability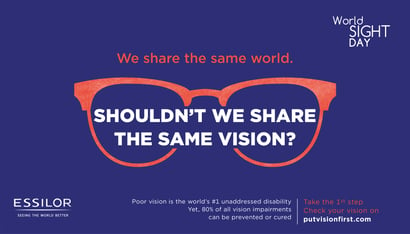 In line with the Essilor Group's mission – 'improving lives by improving sight' – WSD is a key movement to raise awareness and alert people to the critical need for vision screening and appropriate eye care. Essilor invites all road users to adopt 3 good habits to improve their sight:
Check your vision regularly - You can check your vision on www.putvisionfirst.com
Wear appropriate glasses - Not all eyewear is created equally!
Protect your eyes from glares -

Glares

slow down detection and reaction time!
Take the Road Ready

Challenge

and WIN!
In just four easy steps you can win prizes for supporting WSD and staying Road Ready!
Take a picture - of your gear, clothing or what ever your bring on the road with you
Post a Picture - to your favorite social media channel, tagging @essilor
Like a picture - that's part of the campaign; see what other people are posting about!
WIN - Posting and liking pictures that use the hashtag #putvisionfirst and have tagged @essilor will make you eligible for exclusive prizes.
---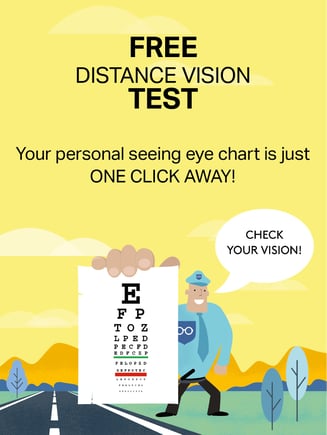 ---