---
Back in 2012, Milwaukee Tool launched their M18 Fuel impact driver and changed the hardware scene forever. The M18 Fuel's electric drive control feature, which gave users the ability to select their desired speed and torque, was revolutionary. This became the stepping stone Milwaukee Tool needed in order to bring us the most flexibility and control ever seen in a tool.
---
What is ONE-KEY™?
Bringing simplified tool and equipment management to every corner of the jobsite, ONE-KEY™ allows users to customize, track and manage their tools like never before. With the ability to build digital catalogs, share information in real-time with field personnel, and oversee transfers and other services, ONE-KEY™ provides a new level of flexibility and control unlike any other product on the market.
How ONE-KEY™ Works...
Customize
Looking at drilling and fastening in terms of user solutions, it is extremely broad. The way people use tools differs tremendously when you consider how someone handles a tool and the specific task they are trying to accomplish. ONE-KEY™ lets users customize their tool's drilling, fastening and hammer mode, so they can tailor their tool for the most precise of jobs.
Though every job calls for different types of handling, an ordinary power tool only has one setting: full compact. Constantly using a power tool at full power risks damaging bits and materials and can strip fasteners. What if your power tool knew when you broke through a piece of material or could be set based on how hard you push down on the tool?
ONE-KEY's™ tool customization allows you to increase your productivity with consistent performance and save money by reducing damage to fasteners and materials, while increasing the life of your accessories. ONE-KEY™ can customize things like the speed range, torque levels, and even select from preset application, drilling, and fastener-specific profiles. ONE-KEY™ can even save up to four customized profiles to the memory of the tool, allowing users to cycle through them when needed throughout the day.
Customize in 3 easy steps:
Create:
Create profiles by setting speed and power for each of your power tools.
Save: Save the custom setting to one of the four modes on the tool. After tool is set, you no longer need your phone. Tool customization is not reliant on the ONE-KEY™ app being open or your phone being close to the tool.
Outperform: Outperform all other tools with unmatched control and speed for the most consistent results.
---
Track
Integrated Tool Tracking allows you to keep a virtual eye on your things from anywhere. The ONE-KEY™ app will automatically keep records of the last time it was within 100 feet of your tool. It doesn't matter if your tool is in another state, as long as any phone with the ONE-KEY™ app comes near your equipment you'll be able to pinpoint your missing tools quickly. The app provides the last seen date, time and location of the missing tool.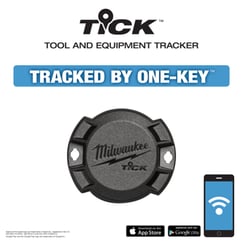 Using a tool that isn't from Milwaukee Tool's Bluetooth® enabled collection? The TICK™can be placed on any tool or equipment and be tracked in the same way.

The Milwaukee® TICK™ Tool and Equipment Tracker is the most versatile Bluetooth® tracker on the market. With multiple attachment options and a low profile design, users can glue, screw, rivet or strap the TICK™ on anything. Weather, water and dust proof ratings ensure that the TICK™ Tool and Equipment Tracker will survive every environment.
---
Manage
Managing your tools is more than just storing them properly or categorizing them based off of your customizations. With ONE-KEY™, you can keep the important information right at your fingertips. Snap receipts, log purchase info, set up service reminders, assign tools out to your employees, pull reports on recent spend, run audits on tools out on location, even pull the full cradle-to-grave story of one of your items. ONE-KEY™ helps you manage down to the project level.
Have tools that are out in the field with a number of workers? You can set up a complementary guest log in to share with your team, allowing you to set the permissions on who can control what. Using a secure code, you can limit guest access to specific features. The access code comes in handy when considering security. Lock your tool and disable remotely to prevent theft and tampering or hide your tool from nearby devices so only you can see your tool is in range. If your tool is lost or stolen, render it useless by sending a remote command to the tool to shut itself off the next time it comes within range of any ONE-KEY™ app.
ONE-KEY™ COMPATIBLE TOOLS
Milwaukee Tool integrated ONE-KEY™ into several of their premium product lines. The tech can be more prominently found in their M18 FUEL™, FORCE LOGIC™, and their high output LED lights.
M18 FUEL™

Engineered for the most demanding tradesmen in the world, all M18 FUEL™ tools products feature three Milwaukee®-exclusive innovations—The POWERSTATE™ Brushless Motor, REDLITHIUM™ Battery Pack and REDLINK PLUS™ Intelligence Hardware and Software. These features deliver unmatched power, run-time and durability on the jobsite, making M18 FUEL™ tools the most powerful 18v cordless tools in their class.
FORCE LOGIC™

Engineered to not only improve upon, but fundamentally change the way high-force tools are used in the field, the FORCE LOGIC™ tools simplifies a complicated process to deliver the best user experience of its kind. Whether it's a knockout system that can be set-up without the weight of the tool for the easiest way to punch, or the 600 MCM Crimper that holds the connector for instant alignment and the fastest repetitive crimps, FORCE LOGIC™ always delivers the smartest way to work.
HIGH OUTPUT LED

The industry's first system of high output LED lights offer full day run-times in portable packages. These LED lights utilize the most advanced lighting technology to deliver a consistent beam, optimized color temperature and true representation of colors and detail leading to a more productive work area.
---
Visit Milwaukee Tool for more details their ONE-KEY™ app and each of their ONE-KEY™ enabled products: https://www2.milwaukeetool.com/onekey