Every year Grainger puts on a trade show that promotes their newest, innovative and best selling items along with hosting sessions that highlight the latest within MRO along with educating guests on best practices.
---
Grainger Vibes
Red Grainger badge around my neck, Disney Magicband snug on my left wrist and a small notepad in my right hand, I walk into the larger than life Orange County convention center. I pause at the convention doors as guest bustle past me; some wear jeans and a company branded polo shirt, while others adorn slacks and a sports jacket. With the amount of people in attendance, you're sure to bump into an engineer, a material handler and a CFO in one short stroll.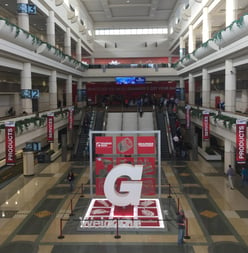 Energized by the beautiful Orlando weather and finally feeling the effect of my large morning coffee, I walk directly into the center of the trade show. I stop right below a giant Grainger sign and slowly turn to note every section of the show. As I turn I spot large white signs hanging from the ceiling all along the edge of the trade show floor. There is a sign for Tools and Metalworking, Lighting, HVAC, Pumps, Motors and Pneumatics, PPE and Facility Safety, Cleaning, and Material Handling.
With a well thought out plan in mind, I head toward the PPE and Facility Saftey section. I didn't make it no more than 10 steps before those plans were quickly thwarted. Lingering just slightly into the aisle is a man playing a classic arcade-style basketball game. Eyes focused on the hoop in front of him, the man blindly grabs ball after ball and tries to make as many baskets as he can. I watch intensely, half enamored by the man's skills and half curious about the supplier who would lug such a giant game into the trade show.
This is just one of the many entertaining factors suppliers utilize to bring guest to their booths. As I continue to walk the trade show floor I see another arcade game, this one displaying virtual golf on its screen. I also see two guests using balancing boards as surfboards, a man driving a race car simulator, and a long line to freshly popped popcorn. At one point during my stroll, a magician stops me and pulls a baseball out of thin air before turning my attention to his booth and detailing how his waxing machine will make a warehouse floor look like new in just one sweep of the floor.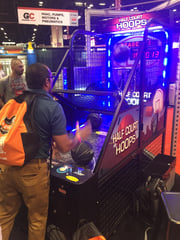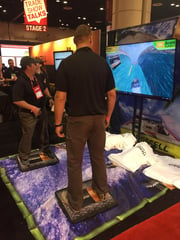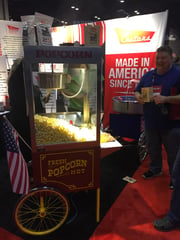 Booths Worth Visiting
Even though there wasn't enough time to visit every single booth in the entire trade show, there were a few noteworthy stations. Three booths caught my attention with their innovated design, remarkable products or fascinating presentation.
The Better Bungee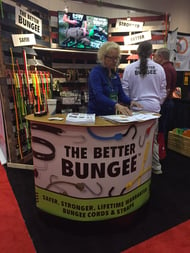 I could feel every muscle in my body tense as I watched a short 24 inch bungee stretch 3 times its size (reaching almost 9 feet!). Just when I thought the bungee was going to break it stretched just a little further until finally it snapped exactly in the middle safely stopping the cord from whipping back and harming anyone in the area.
Unlike other bungee cords, the Better Bungee does not become brittle, degrade or break when exposed to hot or cold temperature variations, UV, water, fuels, oils and other chemicals. Not only did these bungees stretch further than any other bungee I've used before, the Better Bungee also produces adjustable hook ends that are perfect for creating custom bungee cord lengths. To learn about this product visit them at, www.thebetterbungee.com
Knipex Pliers and Cutters
Continuing around the trade show's floor, I was entranced by the set up of each booth. Some were so large that they could fit three semitrailers side by side within their walls. Others were smaller, with only a table and a couple of representatives to speak to. Yet, what the smaller booths lacked in size, they made up for in presentation.
Take for example the Knipex booth. I froze in place when I peered into their station and saw a man floating a foot above the ground. Wide eyed, I made my way over to the man whose arms were outstretched like he was ready to take flight. I examined the man's feet in wonder and found that he was not floating nor was he walking across a tiny rope like a well dressed tightrope artist. No, he was standing on top of a Knipex's plier that was clamped onto a short bar just above the ground.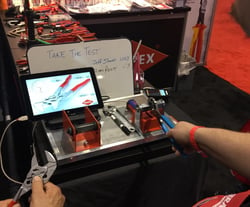 Their plier wrench employs a 10 to 1 lever ratio to offer extreme strength for gripping, bending or holding applications. Due to the high leverage design their pliers and cutters performance is 20x that of applied hand force. Knipex even had a display set up that allowed guest to squeeze a plier and show the difference between the pressure used with a regular plier and the Knipex brand. The results showed that there is 35% less effort required compared to conventional combination pliers. Find out more about Knipex pliers and cutter capabilities by visiting, www.knipex-tools.com
Lone Worker Safety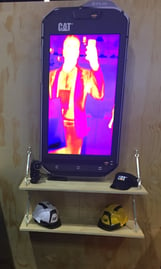 Of all the booths I visited during my time at the Grainger Show there was one product that really blew me away, the CAT S60 smartphone powered by OnGuard. The S60 is the worlds first thermal imaging smartphone. Equipped with a FLIR™ Lepton camera, this phone measures temperatures from 70°F degrees to 250°F degrees up to 100 feet away. With this feature you can shed some light on your DIY projects, spot overloaded sockets or electrical faults, trace insulation leaks, fix the underfloor heating, and even look for your dog in the dark.
Not only does the S60 have thermal imaging capabilities, this phone comes with a one year digital PPE lone worker safety OnGuard subscription. OnGuard comes with many useful features, but most notably is their fall detection, instant panic notification, and equipment monitoring.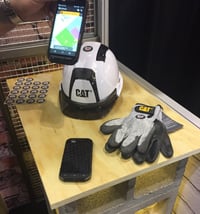 Through fall detection the S60 smartphone can sense when a worker drops from a height higher than 6 feet. If the worker is injured they can use the instant panic notification which allows them to send an alert that can dispatch the nearest emergency service to their location. The equipment monitoring feature ensures that workers are wearing the proper safety gear. Before entering a work site, employees can scan their gloves, hardhats, safety goggles, etc. which will then create a record of how prepared the worker was for that day. Find out more about the S60 smartphone by visiting, www.catphones.com
---
---
All tools mentioned in this article are available through the CoVest / Grainger agreement. Want to become a member of CoVest and gain access to this agreement? Set up a call with Patrick Russo by clicking here.
---
---
Grainger Session
Return next week to dive into what makes "good data". In our next blog, I'll be detailing the Grainger session, "It all starts with Good Data" presented by Accenture.