Most businesses assume rental shop towels are the best, most beneficial option. Yes, having your supplier regularly deliver a batch of freshly laundered cotton towels and take away the dirty ones is convenient. However, disposable wipers surpass rental shop towels on on nearly all counts.
---
The Problem with Laundered / Rental Shop Towels: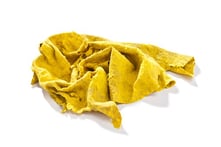 Rental shop towels and wipers used for industrial applications are frequently used to clean up spills from greases, lubricants, machine coolants and other heavy solvents. No matter how thoroughly rental towels are laundered, they retain some degree of waste and contaminants. In a recent study, Gradient Corporation found that even after laundering, all towels tested contained oil and grease. Many contained particles of iron, lead, copper, nickel and other metals. This is not only hazardous to your equipment but to your health.
Lack of Efficiency
If a rental shop towel with retained oil is used to wipe a surface, the trace-level contamination can reduce absorption, cause streaks and smears, affect paint finish, inhibit adhesion of parts and interfere with electrical connections. This can result in costly equipment damage and diminished product quality. Another factor to consider are loose threads and lint. Rental shop towels can deteriorate over time and the loose threads and lint can get caught in machinery and snag on edges and protrusions.
Health Hazards
As for health, many of the contaminants within rental shop towels are considered hazardous. Metals, such as lead, can be accidentally ingested when transferred from towels to hands and then to the mouth. According to Gradient, the maximum estimated exposure to cadmium was essentially equivalent to California Environmental Protection Agency's (CalEPA) Maximum Allowable Daily Level (MADL), for reproductive toxicity.
As well as the oral intake risks, metal shavings from lathing operations can also injure faces and hands. The result can be skin rashes, irritations and possibly more serious medical conditions. The risk only increase when you consider the durability of rental shop towels. Their longer life means they have more time to collect residual contaminants.

The Benefits of Disposable Wipers
Disposable wipers made from recycled textiles are preferable to laundered shop towels across all three life cycle parameters, economically, functionally and environmentally.
Economical Advantages
As mentioned above, rental shop towels retain some degree of waste and as you would have guessed laundry services don't shed these contaminants for free. Many launderers generally add a 10% replacement charge and a 15% environmental charge to help cover their waste management costs. Transportation is a key part of laundry services. So, because rental shop towel suppliers face rising fuel and energy costs, you'll likely see an increase in their prices over time. Most frustrating are hidden fees. For example, many launderers charge you for an inventory level versus your actual usage, making you pay for towels you don't even use! Short and simple, disposable wipers avoid all of these cost and hidden fees.
Environmental Advantages
Under the Resource Conservation and Recovery Act (RCRA), companies that generate hazardous wastes are required to follow strict bookkeeping and reporting requirements. Because of this "cradle-to-grave" tracking, waste-contaminated rental shop towels present a much more complicated chain-of-custody scenario that requires considerable expense to ensure.
Wipers offer a distinct advantage because they're used in one location, they use less water and generate less waste than laundered shop towels, and they re-use materials that would normally be discarded. The amount of landfill space occupied by industrial wipers is so small that solid waste studies cannot identify a percentage number that wipers contribute to the landfill. Rental shop towels, however, produce sludge that are an environmental threat in landfills due to the concentrated contaminants and potential leakage into groundwater.
Superior Functionality
While built to be reusable, rental shop towels are not built to be used across multiple different jobs. Often, the same towels you're using to clean fluid out of your machinery is the same towel the auto mechanic has used to wipe up grease. This means you only have one type of towel for every job and increases the likelihood of cross contamination. Because wipers are a reusable disposable product, they aren't subject to the wear and tear of multiple washes and uses like rental shop towels. Wipers are engineered for a specific range of tasks. They're are several types of wipers to choose from and each require properties such as higher absorption, better liquid holding, abrasion resistance, or exceptionally low linting.

Which Wiper is best for you?
Though cotton is soft, strong and absorbent. Rental shop towels made from cotton have properties that are relatively fixed and can't be modified for specific function. Wipers on the other hand, are created for the specific task you are trying to tackle. Georgia Pacific has several wipers to choose from. Your options include:
---
FLAX
Flax wipes are disposable wipe made from 85% flax and 15% reconstituted cellulose fibers. These wipers are reusable like cloth, yet disposable when contaminated or excessively soiled to help promote a safer work environment. Flax cleaning cloths help reduce usage by absorbing more water (45% more water at a 28% faster rate) and oil (23% more oil at a 38% faster rate). FLAX cloths are safe from hazardous metals and other residual materials sometimes found in rags and rental shop towels. Uses include cleaning cloth, rag, shop towel, wiper.
Best suited for Industrial use. Georgia Pacific's Industrial wipers offer strength, absorbency, and versatility to handle tough industrial cleaning of hands, face, machine parts, equipment, oil, grease, and grime.
Part of Georgia Pacific's F-Series Cleaning Towels. Click here to find out more.
Available formats: Tall box, perforated long-distance roll, long distance roll, vending pack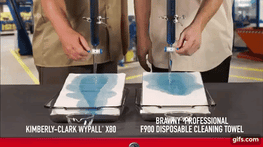 ---
Sources: