The flu can affect your business in a number of ways. From lower staff morale to poor workflow, the virus can effect your company harder than just a runny nose. Learn how to keep the virus at bay with our helpful tips.
---
The Virus
Flu season is upon us and the office could be your biggest adversary, here's why: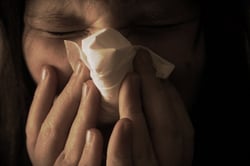 60% of employees come to work sick

Offices are more contagious than hospitals with breakrooms harbor more bacteria than the office restroom

The flu virus can live up to three days on a surface
Up to 20% of Americans get the flu each year, and as a result a total of 111 million work days are missed, according to the CDC. With so many people succumbing to the sickness, it shouldn't be a surprise that the indirect costs of the flu ranges somewhere between $5 billion to $11 billion a year.
Flu Prevention
The month of February sees the highest outbreaks of the flu. How do you intend on battling the virus? Here are some tips to keep your office germ-free!
Get the flu shot!

Encourage sick workers to stay home

Practice proper hand hygiene

When washing, rub soapy hands together for at least 20 seconds

Use disinfectants on high touch surfaces

Keyboards, microwaves handles, water fountain buttons, phones

Eat plenty of fresh fruits and vegetables to support your immune system
Staples Facilities Solutions
Staples' facilities and janitorial services will keep your office virus free. Whether it be by supplying your business with hand sanitizers, equipping your janitorial crews with antibacterial cleaning tools or providing the right technology to telework, Staples will get your office on the track to be a germ-free zone.
Staples Facilities Solutions division is a $2 billion business making them the largest provider in the Jan San industry. Staples will not only keep you safe from the flu virus, their facility supplies can make your office a safe environment all around. In addition to their janitorial supplies, Staples provides many sub categories. These consist of:
Office Supplies

Saftey Supplies

Breakroom

Technology Products

Office Furniture

Promotional Products

Print
Find out how Staples Facilities Solutions can change your office for the better by visiting them at www.staplesadvantage.com
CoVest Member Advantages
Many CoVest members are already experiencing the benefits of Staples Facilities Solutions. In the past 12 months, 7 members have expanded their category use and have made Staples the provider for their janitory and sanitary (JanSan) needs. They are currently seeing an average JanSan savings of 14%.
While their savings are similar, each member has a custom experience. One member, a global commodities company, is rolling out their contract site by site. Another member, a US based building products manufacturer, found their JanSan contract to be such a success they are now branching out to other CoVest categories which include chemicals and PPE.
CoVest has a range of categories and services that will help your business run efficiently all while providing best-in-class pricing. Find out more at www.covest.com
---
Check out our Frequently Asked Questions and find solutions to those burning questions you've had about GPOs