Why data is so critical? What can you do to start your journey to data enrichment? Timely and detailed inventory data can make a world of difference within your organization, found out how...
---
Recently CoVest Sourcing Network attended the 2018 Grainger Show. Along with the amplitude of vendors occupying their trade show floor, Grainger also hosted informative sessions through out the event. One of the sessions that we found valuable was the talk on good data presented by Thomas Pavlo and Erik Green of Accenture. Below we recap what was covered.
Impact of Poorly Managed Data
You'd be hard pressed to find someone who can confidently say they have clean data. There are so many factors to consider when compliing data that it's difficult to find ALL avaliable information and find SIMILAR attributes across many platforms. Take for example this bottle of WD-40: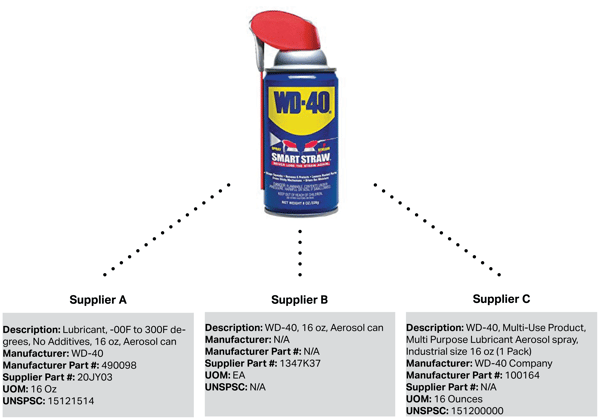 This is the same item bought from three different suppliers. As you can see, there are six key transactional fields that DO NOT MATCH! These sort of discrepancies can majorly impact the way your company functions.
The impact of poorly manintanted data includes:
Proliferation of SKU's

Non-compliance to price agreements

Reordering items already inventoried

Inability to conduct product standardization

Suppliers unable to manage inventory and forecast demand
This bad data can sprout from a number of places but there are two main sources: fragmented and erroneous. Something as small as improper clasification, incorrect formatting or inconsistencies can snow ball into a much bigger issue. That's why it is important to catch these mistakes before they become a system wide problem.
Why is Good Data So Important?
Good data is the difference between seeking value driven opportunities and merely keeping inventory. Good data enables category and compliance management. Operating categories with good data allows for quicker profile analysis, supplier performance metrics and compliance monitoring and tracking. Good Data also enables touchless transactions. These types of transactions ensures optimal buying channels, automatic purchase orders and provides master data which allows for transparency across your entire inventory.
Most importantly, good data enables analytics that drive your business. With so many possible analytical benefits, it's easier for us to list them for you:
Consumption analytics

Cost modeling / price benchmarking

Market intellegance

Spend analytics

Value tracking

Payment analytics

Payment terms analytics

Bid Analytics

Contracting analytics

Supplier risk & performace analytics

STP Compliance analytics

Transactional analytics

Invoice compliance analytics

T&E analytics
What Does a Best in Class Data Strategy Look Like?
Effectively capturing and utilizing data is the path to a best-in-class strategy. The foundation to such a great strategy is finance, procurement and operations. Focusing on these three aspects allows for reduced TCO, better governance, digital oriented data, a focus on time to market and emphasis on security.
A best-in-class data strategy consist of six components:
Data Quality

Data Standards

Data Process

Data Security

Data Architecture

Data Governance
Of these six steps, three take precedence: data standard, data process, and data governance.
Data standard is important because this sets the tone for how you will manage your data. You need to make sure you have precise criteria when defining creation, storage, and usage of data within an organization. Having a clear structure for managing data will build the foundation for master data.
The way you process data can increase the efficiency and effectiveness of your master data by modifying or eliminating non-value added activities. This approach is significant because good data isn't only about how you document data but how you monitor and continue to utilize the information you have.
The guidance of data ensures that data is accurate, consistent, complete, available and secure. Governance to data is like editors to writing; it's all about making sure everything is polished. Any hiccups in your data can harm you later down the line. Ensuring everything is concise across the board will assist in forecasting demand, shield from bloated MRO inventory and plan efficient maintenance activities.
Material for this post provided by Accenture.Find out more about Accenture by visiting them at www.accenture.com
---