With the increasing rate in which millennials are entering the workforce, organizations should understand best practices to create a well-balanced work environment. Over the next three weeks, we'll dive into the mechanics of having a millennial on your team.
---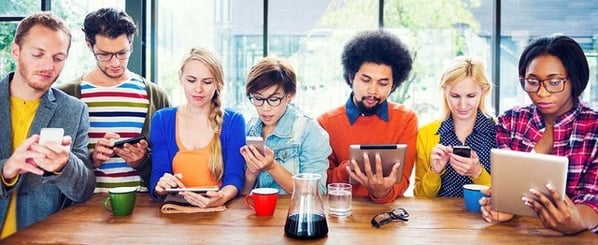 According to the Bureau of Labor Statistics, millennials are currently the largest generation in the workforce. Expected to represent nearly 75 percent of the workforce by 2030, millennials are bringing with them a new perception of what office life should consist of.
Millennials are already changing the way offices are run by making it a place where employees no longer work for you, but work with you. While there are negative stereotypes surrounding millennials, in the end their desires are no different than any other generations, they want schedule control, meaningful work relationships, and a variety of learning opportunities.
Ample Opportunities
Because millennials have a strong entrepreneurial mindset and were raised in a fast-growing digital era, they not only look for opportunities that will propel them further up the ladder, but they are used to having access to an almost infinite amount of resources. This has made millennials efficient problem solvers and critical thinkers, which in turn contributes to millennials always searching for new projects or opportunities outside of their everyday duties.
This means that millennials love to take advantage of conferences, trainings and similar activities. Keep pace with your millennial employees and when they begin looking for more advanced opportunities, provide them with more challenging work or simply encourage them to look for more educational opportunities outside of the office. However, be sure to remind them the importance of balance. Every opportunity meant to strengthen the performance of the employee should be reflected in their work.
Company Culture
Creating an environment where Millennial employees feel supported and valued by both the leadership and their coworkers will lead to increased productivity and valuable relationships. Research shows that the biggest reason millennials are likely to leave their current job is because of their boss. If a Millennial employee feels like their bosses are invested in their personal growth they will be more likely to develop a stronger relationship not just with the company, but with the people in it.
---

---
One mistake management often makes is viewing this generation as 'needy' or 'narcissistic'. The desire for feedback is not a way millennials fish for compliments or is it a sign of dependence. Receiving feedback is a way for the millennial to ensure they are reaching their goal of becoming a better employee. Company culture can be improved with frequent work reviews. However, make sure that there is an emphasis on opportunities for future improvement rather than reflection or 'nitpicking' on past errors.
In the end, having a cohesive, well-balanced work environment benefits all workers. Ensure that workers have a say in decisions that affect them and allow everyone a chance at special recognition.
Flexibility
Unlike Baby Boomers and Gen Xers who wanted job security, millennials seek out flexibility. To millennials a 'good life' consist of more than just income, it has a higher focus on personal enrichment and work-life balance. While this has a stigma in which millennials are seen as lazy, in fact it is the opposite.
Millennials base their performance on output rather than time spent on a project. By focusing on number of hours rather than quality of work, employers are setting a standard that can neither be beaten nor lost. Millennial employees are happy to work long hours on the projects that require additional time however, they do not want to sit around the office until 5pm if their work was completed two hours earlier.
Companies that excel at flexibility and attract millennials are those that offer flexible scheduling, telecommuting options, paid sabbaticals and paid volunteer days.
What's next?
Managing millennials in any capacity is a new experience in any work field, however the contingent workforce may be affected the most. Look for our next blog, Millennials are Migrating to the Contingent Workforce, is That a Good Thing? to find out more.
---
---
Resources