Everyday we see less and less paper in our offices. As technology continues to advance, the use of paper and related products are dwindling. Companies are forced to make sizable changes to adapt their business.
---
As usage of paper continues to diminish and more processes become paperless, office supply companies are closing stores and shifting their focus to their core business customers and leveraging their supply chains in other areas. CoVest has personally seen its members paper volume down 9.3% in 2017 compared to 2016.
---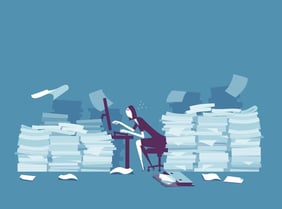 What's Causing The Shift?
With the technological world advancing so fast around us, it is inevitable that companies will choose to go paperless. The cost for managing paper alone is substantial. In 2014, Gartner estimated that the cost of filing, storing and retrieving paper was between $25 billion and $35 billion for US businesses.
Today more businesses are realizing the benefits of going paperless. Relying on paper comes with many hassles, such as filing, risk of data entry errors, and losing documents. Moving paper to a digital format instantly removes many of these burdens. For example, storing documents on the cloud provides limitless simplified storage that makes documents easily retrievable.
Another reason corporations are going paperless is because there has been an increase in remote workers. Those employees on the road are avoiding printed documents and using their electronic devices to handle a majority of business.
How Are Office Supply Companies Adapting?
Understanding that the money is no longer where the paper lies, office supply companies are turning their focus towards other categories. Accounting for over 12% of spend, CoVest has seen furniture replace paper as the top category within office supplies. Breakroom has also become a major component. Within our facility supplies, top contenders now include coffee, cups, plates and cutlery. Staples smart expansion of their supply chain into facilities supplies has aided in retaining their core business customers.
---
Paper and toner spend continues to decline as non-traditional office segments show significant growth.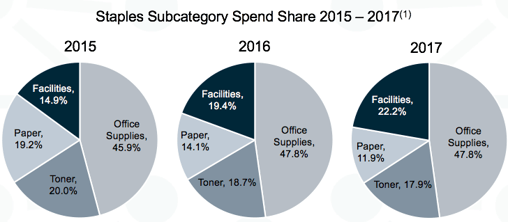 *Numbers presented are based on CoVest's member spend profile.
---
Let's take a look at some of the other names in the industry. How are they responding to the shift within office supplies?
Amazon continues to build Amazon Business, but product assortment is slow to grow and service is limited relative to traditional distributors. However, their commitment to growing the category is strong and all other players have taken notice.
Office Depot did not make the move to expand their category offering as early as Staples and is closing stores rapidly.
Having taken a commanding market position in JanSan, Staples is targeting growth in packaging supplies and other traditional MRO categories.
With office supplies evolving rapidly, maybe now is the time to revisit your spend in that category. Click the image below to learn more about CoVest Pricing Analysis.