With the contingent workforce steadily increasing, it is crucial for organizations to truly understand the good and bad that comes with it.
---
The recent surge in contingent labor or temporary labor, driven by the recession and company's reluctance to add permanent staff and by other advantages of temporary, may have you wondering if your business would benefit from a temporary program. Knowing the advantages and disadvantages of the contingent workforce will help you come to a decision. When looking at these pros and cons, remember they all vary case to case and they may not all pertain to your organization or the temps you may hire.
Pros

Flexibility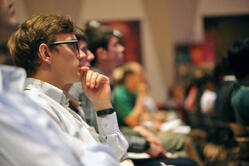 The most predominate benefit of contingent labor is the flexibilty factor. Companies can experience more flexibilty when working with the contingent workforce. Using temp labor makes it easier to adjust staff sizes up and down based on business requirements. Organizations can hire contignent workers on a project basis, bringing in just the right amount of people needed for a specific task. They then have the choice to keep the temps or not once the project is over. More importantly, this is a geat way to control the the resources that go into a particular task.
Savings
There are cost savings opportunities when working with the contingent workforce. As stated above, temp laborers are usually hired on an as-needed basis, this means corporations won't have to pay temps during downtime like they would permanent employees. When managed properly, a company can decided how much funds go into a particular task by carefully picking the amount of temps working on a project. Also, with contingent workers, companies can avoid withholding payroll taxes, paying social security taxes and Medicare taxes, which are handled by the temporary labor agency.
Other advantages include:
Giving HR the opportunity to assess new employees without actually hiring them.

And if there is deire to hire temps, it generally can be done without incurring any recruiting costs.
Having the temporary labor agency train the workers to meet your specific needs.
The ability to manage the contingent workforce with VMS (Vendor Management Systems) generally offered by the temp agency.
Accessng unique skills that don't reside in your organization and are needed for a specific project.
Avoid unemployment claims when the decision is made not to keep a contingent worker.
Cons
Co-employment issues
The most significant risk with hiring contingent labor would be in misclassifying temp workers, causing co-employment issues. These issues can arise when the client company over extends its control resulting in the client company becoming the primary employer. If the "20-factor" or the "common law" test determines your company has a majority of behavioral and financial control over an individual, you will face significant liability under tax law, wage regulations, hour regulations and other employment laws. However, temp labor agencies can generally work with you to fully manage these risk.
Confidentiality
The second detrimental factor to consider is confidentiality. There is no guarantee that the hired contingent worker will not move on to a competitor once their time with you is over. When a temp has specialized skills that can only be used in certain industries, the chances of them joining a competitor seems likely. Though it is common for a temp worker to sign a confidentiality agreement, there is still risk of certain knowledge not being left within your organization.
Other disadvantages include:
There is a higher chance of turnover with contingent workers, which will lead to increased training cost for each worker replaced.
Customers may fell there is a lack of personlized service. Many people prefer dealing with the same person and are even comforted by a familiar face that they feel remembers them and their needs.
Potentially higher cost for what are really permanent jobs that could be less costly with a full-time, permanent employee.
How CoVest can help
CoVest Sourcing Network has partnered with HCMWorks to help you navigate through the good and the bad that comes with the contingent workforce. This new partnership, known as The Talent Exchange, will give members all the benefits one would receive when hiring temp labor with no repercussions. To learn more follow the link below.
Image provided by Flickr user: NASAGoddardSpaceFlightCenter
---
Click the image below for a complementary download