Are you still concerned about how paper prices will affect your company? You no longer have to be.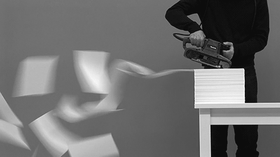 In recent years there have been a lot of hysteria around paper price increase. Because of the rising wood pulp prices (the main ingredient in manufacturing paper), paper prices were expected to see a similar increase. IBISWorld anticipated the rise in paper cost to increase at an annualized rate of 2.1 percent in the three years up to 2017. Many feared this increase would threaten the profit margins of paper-based packaging suppliers in the coming years.
However, because their input prices are increasing, rising demand for paper and packaging products will allow suppliers to pass these input costs down to buyers. Fortunately, CoVest Sourcing Network can secure discounts by leveraging significant buying power and negotiating with suppliers.
These discounts will come in handle as the holiday season inches closer. Because of the rise in Internet-enabled mobile devices consumers are more and more likely to do a majority of their shopping online. Which in turn means that shipping activity will increase as well. Shipping goods to consumers often requires paper-based shipping products, such as corrugated boxes and packaging papers, thereby increasing demand for such packaging.
You can avoid high paper prices by joining CoVest and taking advantage of Staples® Print Solutions ability to handle all your printing needs. Whether your company needs same-day flyers, labels & packaging, or anything in between, Staples® Print Solutions offers products and services to provide you with a customized solution. Want to learn more about Staples® Print Solutions? Visit them at https://www.stapleseasyprint.com or check out this informative video, just CLICK HERE!
For all your sourcing needs, visit CoVest Sourcing Network at www.covest.com
---
To find out more information on CoVest's Benchmarkting Process,