Even with the availability of real-time data, businesses can lose sight of where their resources are going to waste. One of the more difficult to analyze and correct is maverick spending.
---
Maverick spend can be classified as uncontrolled spending or purchases that don't go through your established preferred supplier channel. Maverick spending ignores defined procurement processes and previously negotiated purchasing terms.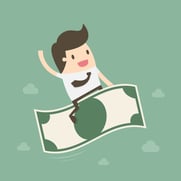 When approaching Maverick spend try not to view it as a malicious or bad intent on the part of your company's staff. The first step to managing maverick spend is
understanding why it is happening and what needs to change to eliminate it. It may be a gap in your own processes as much as on the part of the "perpetrators". It's important to get a better understanding of procurement processes that may have failed in terms of stakeholder management, sourcing, P2P, etc.
Spend Analysis
A comprehensive spend analysis will reveal the key sources for maverick spending. Beginning here will ensure that your organization is focusing on eliminating non-compliant purchasing from the biggest offenders.
Purchase from suppliers with pre-approved prices
Suppliers with preferred supplier agreements, e-catalogs, etc. have pricing already in place that provide discounts and benefits from pre-approved prices to ensure a proper negotiated price between vendors and buyers is maintained. Negotiated pricing offers significant discounts compared to market prices.
Purchase to Purchase strategy
Very few companies have a purchase-to-pay (P2P) regime that captures the benefits of a sourcing initiative. The P2P direction must be clear and well communicated in one common P2P policy. You can do this by ensuring compliance is being monitored monthly and individual cases of uncontrolled buying is addressed directly. One approach that has proven successful is to produce a "lost savings" report. This report shows how much was lost from not using the preferred supplier. Once you have the report, publish it to those who can influence the required changes in purchasing practice.
It is also important to set up the purchasing systems so that it is easy to use and automatically directs the purchases to the preferred supplier. Make sure ordering systems like Arriba and inventory replenishment systems like Maximo for MRO items are set up to place the orders with the preferred suppliers.
Engage the user and supplier
It's important to find out from the stakeholders (the users) why they are not using preferred suppliers. There may be a service issue that the supplier can address to correct the situation. It may also be the case that the organization has not done a sufficient job in promoting the use of the preferred supplier through roll out programs and communications that promote the benefit of using the preferred supplier.
Uncontrolled spending can be linked back to employees who love to contact suppliers, negotiate prices and buy. Those employees with the authority to place a purchase order, add on to the hard cost of rogue by spending wasted time in researching and negotiating with vendors. Making the organization aware of cost and time lost to these purchasing activities that could be redirected to doing their primary job can help eliminate these practices.
There's another way!
Utilizing someone like CoVest Sourcing Network helps ensure correct uses of P2P processes, purchase order management and available contracts that 'strategic purchasers' have arranged.
CoVest Sourcing Network can help your organization eliminate maverick buying, gain control of your organization's buying behavior and realize cost savings, visit our website to find out more!
www.covest.com
---
---
Resources:
CIPS, Spendmatters, Procurify, and Blurgroup