Last week, CoVest had its fourth annual member meeting. We were thrilled to host this years meeting in our hometown of Cleveland, Ohio. Other than treating our members to the wonders of Cleveland, the meeting covered a wide range of subjects, ranging from CoVest updates to new supplier advances.
---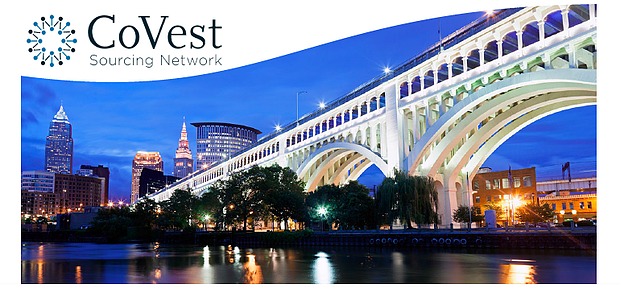 CoVest Updates:
CoVest kicked off the meeting by reviewing the progress we have made over the year. After gaining several new members this year, CoVest's members revenue now represent $350 billion around the world! This is on track with CoVest's goal of reaching $500 billion in member revenue by the end of next year.
CoVest unveiled two additions to the sourcing network's services. CoVest Logistic Services partnered with BridgeNet to bring transportation into the array of categories and services CoVest already offers. This is the result of our first Strategy Council meeting in April, where the members indicated they would like to see CoVest develop a transportation category. CoVest Logistic Services will develop agreements first for LTL shipments, then expand to small parcel, FTL, air and ocean. CoVest also announced the CoVest Talent Exchange and a partnership with HCMWorks. The Talent Exchange is a unique service that provides tailored solutions for our members contingent staffing needs.
Other additions to CoVest services that we are excited about is the development of our MRO database, improvements in our spend and savings reports and build out of the Members Only area on the website.
Guest Speakers:
CoVest welcomed several companies to come and speak with the members. These include suppliers and partners of CoVest, as well as GE Lighting. The talks were very educational and dove deeper into how they can provide additional benefits to CoVest members.
Staples
Staples discussed a focus on business technology as a key growth area. This is inline with their overall strategy to expanded their categories past office supplies to include: facilities/cleaning and break room, technology, furniture, print and promotional items.
BridgeNet
BridgeNet spoke more on their partnership with CoVest Logistics Services. They explained how they are bringing more savings to the table than a 3PL can offer customers. And they provided details on what will set apart the deals our members will receive in the market.
GE Lighting
GE Lighting gave us a great insight into future savings and the technology of lighting. Members learned about the saving power of LED lighting. General Electric discussed the importance of total cost of ownership and how LED lighting can make a great savings difference with long-term use. CoVest members enjoy special pricing on GE Lighting items including LED systems, further enhancing the savings opportunities.
HCMWorks
HCMWorks expanded on the HR services that come with HCMNow and how it will benefit our members. HCMWorks spoke on how they give visibility to spend patterns to help manage temporary labor and how they provide cost transparency that their customers could not have obtained before.
Suppliers
And finally, several CoVest supplier partners provided an overview of their CoVest agreements, highlighting the service levels and pricing only CoVest members receive.
The 2014 Member Meeting had a great turnout thanks to the members and suppliers that have helped CoVest become what it is today. We look forward to next year and the progress that is sure to come.
Will you be at our next Member Meeting?
---
Not a member yet? Click the image above and learn more about our membership process!