Offices have long evolved pass the humdrum space where employees shuffled papers for eight hours a day. In recent years, we've seen our work spaces open up and become an inviting and collaborative inducing environment. Today, offices are taking that idea one step further by incorporating contemporary and green technology.
Out with the Old And in with the New
Open office spaces in theory sounds like a great idea. The barriers between intern and CEO are literally being taken down. It promotes more interaction and collaboration. While employees do have ample opportunities to bounce ideas off each other, this layout also allows noise pollution and distracts the worker. Today's designers are trying to enhance this layout to better suit the worker while also complimenting the companies needs.
While there are still benefits to an open office space, employers found that including a place for their workers to decompress goes a long way. That is why the office design of today has found a middle ground between hot desking and individual offices.
The bland and stiff nature of office furniture is being replaced with richer colors, natural/lighter materials, and more lively yet comfortable styles. The new furniture trend attempts to deter distractions and return privacy to the office. In order to keep the open spaces but allow solitude, there is a rise in couches that cocoon the user, sound dampening panels and space dividers that in no way resemble cubicles.
Lean, Green, and Everything in Between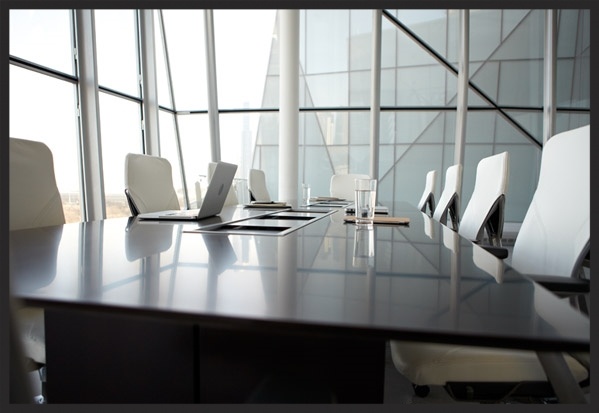 Offices are no longer just about the office. Corporations acknowledge the healthy mindset of their employees and are more aware of the impact their companies have on the environment.
Taking employees' health into account when constructing new office spaces allow designers to get a bit creative. There is a rise in flexible workstations that accommodates for standing and seated work. Many offices include an outdoor area where workers can soak in the sun without taking a vacation. And some companies are even equipped with health rooms where employees can practice yoga or meditate.
Not only are employees shedding the pounds, but office construction material has become lighter as well. Lightweight, movable, and pliable materials are integrating into office design. Work spaces include incredibly thin plywood, rolling walls, and glass barriers. In the near future, we will be seeing more 3-D-printed elements weaving their way into the workplace.
Technology
Technology is becoming ubiquitous and is implementing itself further into our daily work lives. You can't turn your head without facing another computer screen. Tech is in the walls and chairs and even something as simple as lighting. With new studies saying that lighting affects the mood and productivity of people, there is now a demand for lighting that can change the color temperature, so it's cooler in the morning and warmer in the afternoon.
Communication between people and the objects around us has never been better. You can reserve a table or work space from your phone, monitor energy usage and control electronics from anywhere in your office, and charge your mobile devices using task lights. Technology has even blurred the lines between office and home. Video conferencing has made it easier than ever to stay connected to the office when you're not in the office.
About Business Interiors by Staples
Business Interiors by Staples offers bright solutions, hands-on assistance, creative services and hundreds of the most respected brands in business furniture including brands like HON®, Allsteel™, National and Gunlocke. They have an expert team consisting of sales, designers, project managers and installers who have been in the furniture industry for years and bring their expertise to your office.
Grow without building anew. Promote collaboration. Support a variety of activities. Business Interiors by Staples wants to create a space that works for you.
CoVest Sourcing Network
There are several benefits of accessing Business Interiors by Staples through CoVest Sourcing Network. CoVest members receive our special pricing for "sit stand" desks along with free shipping on all transactional furniture (desks, chairs, filing cabinets, etc.). We also offer a free consulting service for those who are interested in complete floor layout designs.
Learn more about CoVest categories and services at, www.covest.com then head over to Business Interior by Staples at www.businessinteriorsbystaples.com
Images provided by Business Interiors by Staples
---
Click the image below to see a list of the world's 100 most sustainable corporations: